Memorial Day Crabs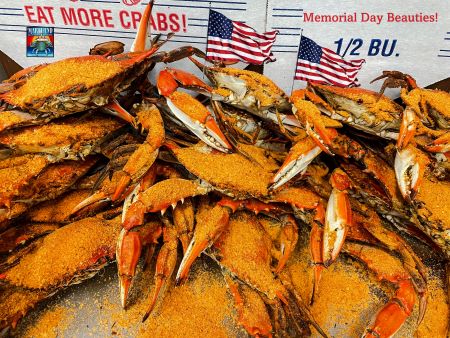 Thank you for visiting our website! Click here for coupons.
"What's a traditional Maryland Crab Cake?"
Pan seared, golden-brown, tender, and salty sweet captures the essence of a traditional cake's taste, but there's more. You won't find filler or excessive breading to hold the cakes together. The shredded lump and large crab chunks combine together to hold the cake. You won't find vegetables or peppers, but a cake that relies on the salty-sweet crab taste. Bay spices, black pepper, dry mustard complement the lump meat as a costar and don't upstage the taste as may a pepper or other spicy garden vegetable may do. You won't find a yogurt ingredient or a gluten free additive. Mayonnaise, eggs and crushed white crackers makes the Maryland cake. Pick fresh, make fresh, and bake and pan sear even fresher. The tender succulence of the inside will hold together from the sweet and buttery golden brown shell. Why change up perfection when the traditional cake wins the show!