Promo Holiday Bushels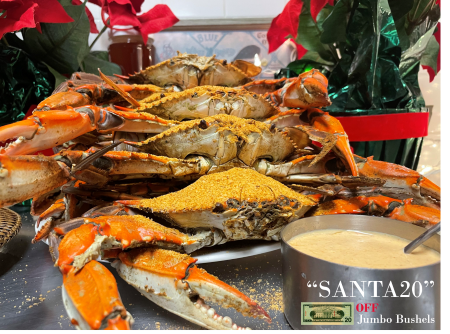 Christmas Season Promo Special ~ Code "SANTA20" takes $20 off Jumbo Bushels! Say ho, ho, ho to someone you know with a Bushel of Jumbos!
Expires December 31, right before the ball drops in NYC.
Thank you for visiting our website! Click here for coupons.
How do we ship crabs fresh?
No Secret here. It's loud and clear that you want a taste of the bay as if you're catching and cooking the seafood yourself on the dock. We have you covered. We'll do all the work, and you can eat the benefits! Ensuring safe, undamaged, and unspoiled fresh seafood, especially steamed blue crabs requires an exact cook-pack-ship technique. We load the pots with snapping blues and spice each layer to your choice. Then we set the timer for a water steam for a Traditional Maryland Cooking. Then we cool the crabs down slowly to keep the meat tender and succulent. To get the crabs to you for a fresh delivery we choose the best containers. Strong custom crab coolers, exact fitting liners, and sturdy shipping boxes takes the stress out of shipping all throughout America. You want a crab feast. We'll cater your event from our crab house to your seafood sanctuary.
Make sure you choose all your tools and extra spice for your feast. Make the crab eating fun, tasty, and easy. Crab paper for the table, paper towels for messes, and bowls of warm water to clean your fingers will keep it fun. No need for stress! Easy cleanup during and after will not only make the event smooth, but you'll also have the joy of just rolling up the crab paper and throwing out all the mess. In fact, you'll have time to look at all the crab selfies you took! Don't forget your butter warmers to heat dipping sauce or butter to take your feast to the ultimate tasty level. Try our Delmarva Dipping Sauce that complements the salty sweet with a tang. Yes, we make it easy. When you get the crabs, all will arrive belly-up to keep all the moisture in the meat. Simply heat a few crab belly-up in the oven for about ten minutes or resteam for about 5 minutes at ¾ throttle. Many enthusiast choose to simply dip in the heated sauce, which instantly heats the meat. The choice is yours. Do you want a crab feast? Of course, you do!
Watch our Featured Professional Blue Crab Packing video.