Maryland Lump Crab Cakes {Traditional Recipe}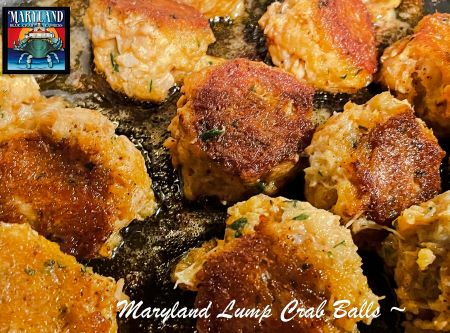 Not just any crab cake, a traditional
Maryland Crab Cake!
Maryland Blue Crab Express packs 1 oz. to 8 oz. 100% USA lump crab cakes. Our chefs follow the traditional Chesapeake Bay recipe with no filler but with impressive mounds of freshly picked lump crab meat.
Chef's Advice~
Frozen premade crab cakes simply impress!
The more lump in the cake, the more delicious, but keeping a cake with minimal binders can cause strife in the kitchen. Never worry. Frozen cakes keep their form better as you bake or sauté them. Plus, they cook quicker for an easier preparation. The key is choosing the right cooking method. We steer our diners away from deep-frying to keep the cake healthy, but we do present to you two choices. Get out the pan for the stove top or a pan for the oven. Let's get started!
Get that pan hot and sizzling. Drizzle your non-sticking pan with extra virgin olive oil and pick the pan up and swivel it to evenly coat the pan. Bring the temperature up to medium-high heat. Position the frozen cakes in the pan about an inch apart. Dust with Old Bay and also the pan a bit to get that sweet smell wafting through the kitchen. Nothing signals bay cuisine more than the smell of Old Bay! Sear for 3 minutes on the first side and carefully turn over for another minute on the flip side. (By the way, the frozen cake will cook quickly, but hold its compacted state from the flash-freezing. That's our secret for you!) Turn the heat to medium and cook for another 2 minutes per side. Push down on the cake a bit to give it that traditional saucer cake look. Once finished, scoop the cake onto a paper towel briefly to soak out the excess oils. Promptly serve and take all the accolades from your hungry fans!
Crank up the oven to 350 degrees F! Baking makes the healthiest option, but let's make things even. Brush the cakes with melted butter and sprinkle with Old Bay. The butter will cook to give the cakes a natural golden-brown color. Also, the butter helps keep the moisture within the cake. Place each cake on a greased baking sheet. Use a nonstick, zero fat cooking spray that won't add grease to the cakes. The brushed butter is enough. Cook for about 9 minutes. Take your cooking thermometer and check the cakes. The inside should read about 165 degrees F. Then they're ready. Quickly serve and celebrate life by serving PERFECTION!

Can't get enough recipes? Click here.