Winter Seafood & Crab Dock Deals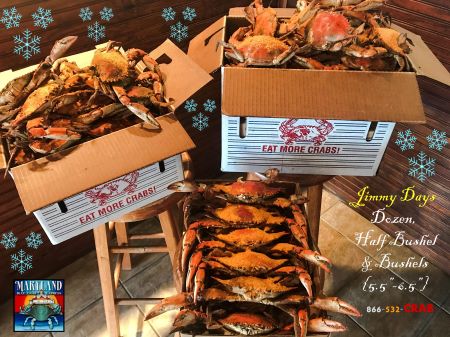 Jimmy Days Clear Out Our Snowy Docks!
Winter snowflakes quickly melt from the peppery steam wafting off these steamed crabs! Let the salty-sweet meat take you away from the winter's cabin fever! Hot butter dipping, huge claws cracking, and a bay spice smacking, you'll quickly forget about Old Man Winter. Send out the invites for a Jimmy Days Celebration. Daily, our crew empties huge pots filled with our customer favorite, the "jimmy crab." Yes, jimmy names a male crab, but we also use the name them to signify our #1 Crab from 5.5"-6.5" point-to-point on the top shell. This mix contains the medium (5.5"-6"), and large (6"-6.5"), a crab for everyone in the family. Dozens, Half Bushels (about 3.5 dozen), and Bushels (about 7 dozen) will plow you out of the mundane and take you back to your carefree summer days. Set up the indoor sanctuary and get ready for this fresh catch!