4th of July Crabs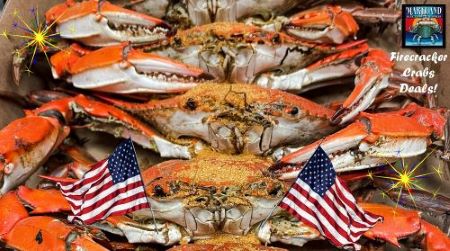 Thank you for visiting our website! Click here for coupons.
Celebrate our Independence
with a FRESH Catch of
Healthy Blues!
Our crew size everything HUGE! Freedom Jumbo Dozens, Grand Finale Supers, and Firecracker Deals! Yes, you may have to set down the sparklers to get crack'n. The time well spent, just like celebrating this land! Set aside time with your fellow revelers and roll out the crab paper. Set out the mallets, cracker, and spice. It's time for a freshly steamed dozen, half, or full bushel! Show your freedom in choosing the best crab our country offers, the Maryland Blue Crab!