Littleneck Northeastern Clams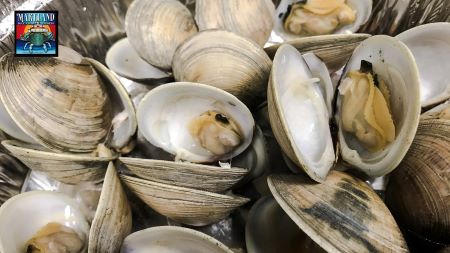 Save your clams. Sign-up for our daily deals newsletter!
Maryland Blue Crab Express Recipes
Whip up a rich sauce for freshly grilled clams.
We know you like to fire up the grill. Yes, some guests may want grilled beef, but others crave Chesapeake Bay seafood. Try an exquisite clam recipe that will cause the sauciest guest to sit down to rest! Eating these clams will bring much pleasure! Harvested on the Virginia side of the Chesapeake in monitored waters for safe-eating, these clams taste briny-sweet raw or cooked.
Try Grilled Clams with Garlic Butter.
Since you invited all your fans and ordered 250 ct. of clams, get all your needed ingredients for a large grill cook-off. 1) 250 clams 2) 40 tablespoons of unsalted butter 3) 20 garlic cloves 4) 2 ½ cups of Pinot Grigio 5) 2 ½ cups heavy cream 6) 10 tablespoons minced chives 7) sea salt & grounded pepper. Keep the cooking simple. Scrub the clams and set them in the fridge. Get the sauce ready by preheating the oven at medium heat and melt the butter in a large saucepan. Whisk and add cream and wine and simmer for 5 minutes. Add the remaining ingredients and whisk to a froth. Carefully turn the burner too low. Gather your clams and set on your grill at medium-high heat and allow to grill for 8-10 minutes until clams open. Once opened, drizzle sauce with a spoon over each clam. Scoop from the grill and present in a silver-serving tray. Bon Appetit!