Featured Crab Special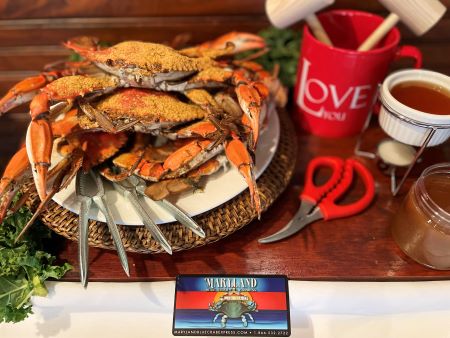 Don't Sing the Winter Blues. Crack-n-Pick one!
Old Man Winter knows his time's slipping away. Only a few more weeks and the sun will shine brighter, and the bay waters will slowly warm. Blue crabs will know exactly what to do. It's time to move, begin their migration back into the Chesapeake. The die-hard armored few will awaken from their winter slumbers deep from the bay's muddy bottom and take a beautiful swim in search of a feast on insects, clams, oysters, fish, and whatever else they can get their snapping claws on. Meanwhile, their cousins from Southern waters will fill the appetites of blue crab lovers like yourself. Always USA and salty-sweet, blue crabs boast a delicious meat. Delicate in taste and ideal for a warm butter dip, Maryland Style Blue Crabs win awards for taste from Maine to Florida and Washington DC to San Diego!