I Love Double Dozen Crabs!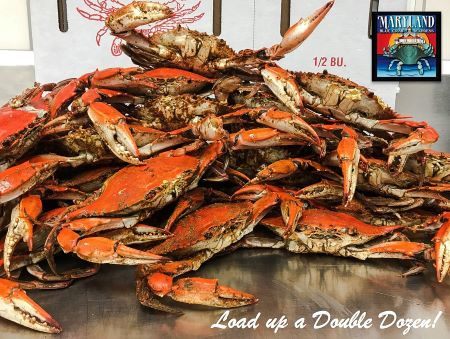 Take a load off. Relax. Throw a winter crab feast like no other!
Load up the table with our double dozen deal. Salty-sweet Maryland Blue Crabs
steamed & spiced
to order sounds delicious, right? Of course!
Winter Fat crabs
are the perfect cure to "cabin fever." No need to set your trotlines, we'll do the catching and size the crabs to the Traditional Chesapeake Bay Grading Scale. Best yet, we deliver right to your front door!
Take a look at the stats.
Crab Sizes ~ Small (5"-5.5"), Medium (5.5"-6"), Large (6"-6.5"), X-Large (6.5"-7"), Super (7" +)
Get your crabs cooking! Call us at 866-532-CRAB
Customer Review ~ 5 STARS
"I grew up near the Chesapeake Bay and learned to catch, cook, and pick crabs at an early age. I currently live in Buckeye, AZ (the desert!) and enjoy crabs shipped to my house that remind me of those days. The MBCE staff is awesome and have helped ensure crabs delivered here are of superior condition, just like being in the DE, MD, PA area. They are delicious! Thank you!!" (Alan D, 8/7/20)
You tried, but you just can't eat another crab! Sound absurd? Well, yea! We do have some recipe ideas if this actually happens.
First, with the claw meat (darker meat with a robust flavor cracked and pulled from the claws), stir up a rich soup.
Corn & Crab Chowder ~ Red potatoes, chopped carrots, yellow corn, Creole seasoning, claw crab meat. Warm up a cool, crisp autumn night with a piping hot bowl of crab chowder.
Second, with the lump meat (pristine white salty-sweet meat picked from the two main crab halves), adorn a heaping pile of linguine.
Crab Linguine ~ Olive oil, red chili, parsley, lump crab meat. Nothing satisfies a hearty appetite better than delicious pasta!
Third, with the jumbo meat (huge, succulent, pristine white portions pulled from the back-swimming legs), get your "ohhs and aahs" from the beautiful crab chunks.
Crab & Avocado Salad ~ Haricots vents, Hass avocados, romaine hearts, jumbo meat. Yes, eating healthy can be delicious too!