Maryland Style Steamed Blue Crab Claws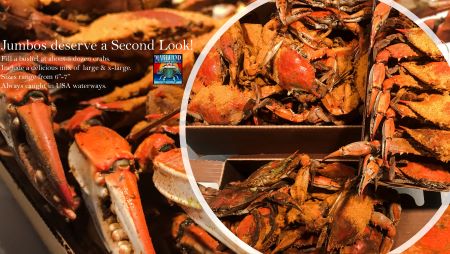 Know Your Crab Size~
Each crab category ships either as a dozen, half bushel, or bushel quantity. Our crew smiles at some of behemoth crabs that get packed into a jumbo bushel. Crabs live between 3-4 years, growing in and out of their shells several times during the season. Jumbos represent the mature crabs and weigh down a bushel at about 5 dozen. Jimmies, a customer favorite touts the name "Number 1 Crab" fills a bushel with about 6 dozen. Bays require some more picking, but do include claw, lump, and jumbo meat too. Plan accordingly, the crab feaster savors between 6-8 crabs per sitting. Bays count to about 7 dozen in a bushel. Finally, females, some say sweeter, but definitely with denser meat, burst a bushel with about 7 dozen crabs. Knowing your crab size will help you plan winter crab feast sides.
Summer Crab Feast Side Suggestions ~
Planning a spring crab feast should give the most comfort in "feel good" sides. You already won by picking a USA Blue Crab. Male crabs boast salty-sweet flaky meat, while females taste sweeter with a bit more compacted meat. Pick up some of our Delmarva Dipping Sauce for a tangy sweet complement to the crabs. Consider bacon-wrapped scallops, gulf white shrimp salad, and warm corn bread muffins as worthy sides. Don't fill up too much on the sides though. Keep the focus on the crabs!
We keep to the standards for every catch!
Our crab crew knows what to do! With the official grading scale, they take the LIVE crabs and measure them point-to point for an exact sizing. Only feisty crabs make it to this point. Live crabs steam to a tender, salty-sweet meat. Dead crabs disappoint every time! Here's the official scale: Small (5"-5.5"). Medium (5.5"-6"), Large (6"-6.5"), X-Large (6.5"-7"), and Supers (7" +). Entertain yourself. Check the other crab houses. Most call a Large a Premium or something of the sort, measuring (5.5"-6 ¼"). We give you the crab with the most!