Maryland Blue Crabs Steamed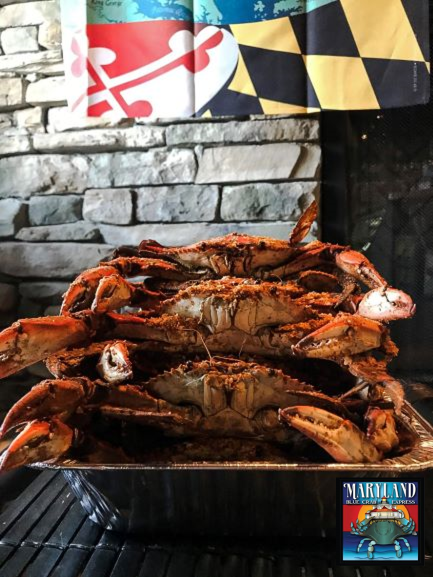 Piles and piles of fat rusty crabs!
The air's still a bit nippy, but the Blue Crabs are on the move! Cutting through choppy Bay waves, our crab boats find a way to pull the healthiest and fattest crabs so far, this 2020 Maryland Blue Crab Season. Bring it on! We especially cheer for fat rusty crabs! These crabs have gorged themselves on clams, oysters, insects, fish and even eel grass. What a bunch of fatties! Our captain teaches the newbies to hand select these crabs for your online orders. What does this mean for you? Mounds of jumbo, lump and claw meat ready for a hot butter dipping!
Get feasting on a bushel!
Steamed Bay Crabs 5"-6"
(6-7 dozen) *
Steamed Jimmy Crabs 5.5"-6.5"
(6 dozen) *
Steamed JUMBO Crabs 6"-7"
(5 dozen) *
Steamed Female Crabs 5"-7"
(5-6 dozen) *
*approximates.
You can tell a fat crab, just by sight. Listen to the captain's tips!
Knowing when to select a crab or to throw it back in the Bay requires a keen eye and a quick touch of the shell. "No one likes a bushel of meatless crabs. What a waste! These Blues just needed a few more months to fatten up. We throw "shell crabs" right back in the water, mates!" Also, crabs caught from the muddy bottom may seem heavy, but they're merely filled with soot from the Bay's floor. "All crabs have an appetite. Even the bottom dwellers. Don' be tricked by a seemingly heavy crab that's just filled with mud!" With a careful sorting we leave the light crab for a complete "ripening." Let Mother Nature grow the crabs. Pick the fatties. That brings us to the tips.
"Check the crab's belly. If it appears "rusty" and not shiny, you know you got some good ones." Avoid crabs that appear shiny or overly "white" on the undercarriage.
"Press the crab. Hold down those claws and feel for a

solid core."

A shell filled with jumbo, lump and claw meat will naturally feel dense, full.
"Respect the catch and you'll have customers who respect the feast!" We here at Maryland Blue Crab Express always rush the

best crabs

right to your front door!
When steaming crabs, should you spice before or after cooking?
Crab houses pump a spicy alluring aroma from the steam room, bringing all crab lovers to take a look at the latest catch. What a smell! Freshly steamed crabs naturally taste salty-sweet, but what about the spice? Most authentic crab houses surrounding the bay use JO spice #2 that gives the crabs a peppery pop and larger salt flakes than Old Bay. These larger flakes remain on the crabs while steaming. Does the spice soak into the crab while steaming? Many enthusiasts say the spice gives the steam a light flavoring that permeates into the meat. Others say the picking process and getting the spice all over your fingers, gives the meat a perfect spicing as you feast. Either way, the aroma, the tenderly steamed meat, and useful spice on the crabs tips the scales for spicing before steaming. Why risk all these benefits? Yes, you can fill a ramekin with spice, but doesn't that ruin part of the crab feasting fun?