Maryland Blue Crabs Steamed Official Page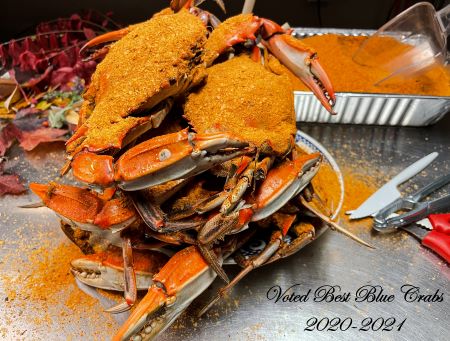 Set the Perfect Holiday Table with Maryland Blue Crabs!
For us, it's easy! We keep to time-tried traditions that have guided watermen and crab houses along the Chesapeake Bay for decades. Yes, culture may have changed. Cars reach maximum velocity with minimum gas. Phones play videos and pay bills, but one thing has remained the same. How to keep a FRESH crab catch delicious from dock to door. From the Solomons Island to Mobjack Bay, our crab boats search for meaty blues for your feasts. One thing is certain. We take it seriously!
Preparing for the Catch ~ Before crashing for the evening, our crew makes sure all the pots have bait and rest ready to drop into specific charted waters the next morning. A keen eye on currents, tides and trends directs each crew leader to plan the morning's route. Eel parts, squid, and fish parts serve as tempting morsels for the crab's morning feast.
Rising with the Sun ~ Respecting laws for crabbing, our crew set out at day break to begin the adventure. We know we have 30 minutes before sunrise to get started. Wet burlap and bushel baskets line the deck in anticipation of filled pots. See, a quick exchange of pots makes the trek quick. Pull the filled pot and replace it with a the newly baited one.
We keep it Real! Each pot gets a thorough grading. Baby crabs and female crabs outside catching season get a quick toss back into the bay. At first, we separate the sizes into bays, jimmies, jumbos, and females. Bushel baskets bursting with these sizes line the decks with wet burlap keeping the sun away and soothing the "Beautiful Swimmer that is savory." Check out the bushel stats. Bays measure 5"-6" and hold about 7 dozen crabs. Jimmies stretch from 5.5"-6.5" and count up to 6 dozen. Jumbos marvel with sizes between 6"-7" and serve about 5 dozen crabs. Lastly, Females contain a random mix from 5"-7" and impress with about 6 dozen.
Back at the crab house, the MAGIC happens. Our crab crew know what to do! With the official grading scale, they take the LIVE crabs and measure them point-to point for an exact sizing. Only feisty crabs make it to this point. Live crabs steam to a tender, salty-sweet meat. Dead crabs disappoint every time! Here's the official scale: Small (5"-5.5"). Medium (5.5"-6"), Large (6"-6.5"), X-Large (6.5"-7"), and Supers (7" +). Entertain yourself. Check the other crab houses. Most call a Large a Premium or something of the sort, measuring (5.5"-6 ¼"). We give you the ultimate catch. With an exact steaming and spicing, your order's ready!
Check your front door! Our shipping department choose the perfect custom crab cooler for your order. What did you get? A dozen? Half Bushel? Bushel? We pack the appropriate cooler with gel packs and dry ice that will ensure a delicious delivery. Absolutely FRESH Blue Crab delivery!

Follow our Seafood Blog. Click here to join.