December Specials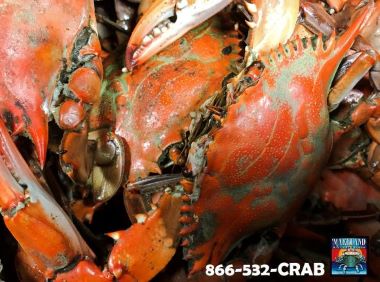 Freshly Caught Maryland Blue Crabs. Steam Fresh, Keep Fresh! (866-532-CRAB)
Maryland Blue Crab Express's crab houses prepare your dozen, half bushel, and bushel amounts for a quick home delivery. We steam to order. No spice, light spice, extra spice. Our spice of choice, JO Spice #2, ensures a peppery pop to the salty-sweet crab meat. The larger salt flakes stick to the crab during steaming whereas Old Bay simply washes off. We also follow the traditional Chesapeake Bay recipe. Large cast iron pots, huge steam boilers, and exact cooking times. We know what you like, and we deliver it!
Turn your kitchen into a crab house. Follow these steps to a perfect dozen or two every time!
Place your crabs in the fridge to tame them down. Otherwise they'll have a greater chance for losing their claws during cooking.
Get your ingredients together: dozen blue crabs (multiply recipe if you add more dozens), ½ cup JO Spice #2, 1 TBS Sea Salt.
Find your trusty large cast iron pot and a basket or grate to fit inside. Mix ½ cup JO Spice #2, 1 tbs. Sea Salt and pour into the pot. Then position the basket or grate and fill water up to, but not submerging them.
Take the basket or grate out and mix the liquid. Reposition them and turn the heat to high until the liquid boils, then reduce to medium.
Position the crabs in the basket or on the grate and sprinkle with about a tablespoon of spice per crab.
Cook for about 20 minutes or until crabs turn

bright orange.

Promptly serve and get crack'n!

Follow our Facebook Blog!