Gulf White Shrimp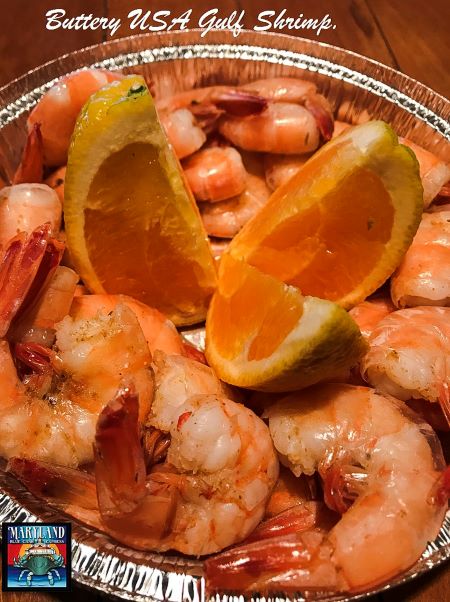 Quick Shrimp Tips
1. Did you know shrimp has healthy benefits? In a 3 oz. serving, shrimp contains 24 grams' protein, only 84 calories and boasts heart-friendly selenium, Vitamin B12 and Omega-3 fatty acids.
2. How do we organize the shrimp for your recipes? Our crew size four categories: 26-30, 21-30 and 16-20 count per pound. (26-30 means a pound contains about 26-30 shrimp.) We peel and devein, along with leave the shell on others to give you cooking choices.
3. Do we have a quick recipe for peeled and deveined shrimp? Sure do. We call it Kent Island Shrimp Salad. Gather your ingredients: 1-pound 16-20 ct. Gulf Shrimp, 1 tbsp. oil, Old Bay, ¼ cup chopped onions, 1 stalk chopped celery, 2 tbsp. cilantro, iceberg lettuce, ½ cup yogurt, lemon and 1 tsp. mustard. Preheat the oven to 400 degrees F. Place shrimp on a cooking sheet and drizzle with oil and sprinkle with Old Bay. Bake until opaque for about 7 minutes. In a bowl for your dressing, whisk yogurt, and squeeze the lemon into the mix. Break the celery into manageable pieces and glitter with onions and celery. Prepare about four salads with this recipe. Adorn each salad with 6-7 jumbo shrimp. Bon Appetit!