Buy 1, Get 1 Free ~ Buy 2, Get 1 Free ~ Delicious Combinations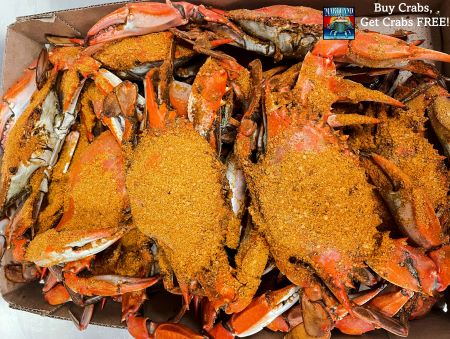 Thanks for visiting our site! Take advantage of our daily deals newsletter. Join here.
Don't be shy. Grab another crab!
Crab season 2022 offers blue crab choices. You marked the calendar for the perfect spring feast and now the days are flipping to that magical event. It takes a true crab fan to sum up the reasons for loving a crab feast since there are so many! Take today's specials. Buy Crabs, Get Crabs Free opens the docks to a whole set of new fans. Frugal fans who love free, salty-sweet blues send out more invites with this deal.
Knowing crab sizes makes an educated customer in the ways of the bay. Crabbers measure each crab from that sharp point on one side to the other. An official scale is like knowing sport statistics or how to keep score. Read the scoreboard. Supers 7"+, X-Large 6.5-7", Large 6"-6.5", Medium 5.5"-6", and Small 5"-5.5".